Important Next Step
Or Your Account Won't Work!
Please watch this video so can learn how to activate your account.
 1.  Activate your account
Please look for an email from [email protected] to Approve the Request to activate your Zoom account with Working Live. 
You may find it in your spam folder.
If you don't see the email within 24 hours, click on the Contact Support in the menu above. Please don't contact Zoom for the email link.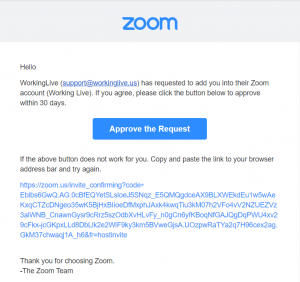 Note:
Three things that will prevent the account activation.
1) If you have more than one person on the account.
2) If you have a Zoom room.
3) If you have an outstanding balance with Zoom.
After you correct the above, please contact us through the livechat or Contact Support in the menu above to have the activation email resent.
It may take up to 24 hours to receive the invitation
  2.  Verify the account activation was successful.
1) Sign into Zoom at https://zoom.us using your same email and password or request forgot password.
2) Go to your Profile to verify your capacity and features are "Licensed" and "500/500".
3) If after 24 hours, you don't see this in your Profile, please use livechat or contact support in the menu above to report the invitation was not successfull.